Categories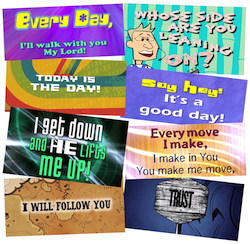 More Details ›
Uncle Charlie Lyric Video Super Bundle
8 Lyric Videos for your Kidmin and Home
The songs in this bundle of lyric videos are used in the Kidology Kids Church Online series
Sneak n' Snoop: Bible Detectives
. You can download the videos to use at home or in your own ministry. Normally $10 each, you save when you buy them together!
In this lyric video collection, you get 8 songs performed for kids ages 5-12. Combining Bible truths, great musicianship, and tons of fun, kids will want to watch these videos over and over!
Songs include:
Get Down
Every Day
Leaning Song
This is the Day
Say Hey
Every Move I Make
Trust and Obey
BONUS SONG: I Will Follow You
View samples of videos.
Delivery of your video bundle will be via a secure download link sent by e-mail shortly after purchase. Links expire 7 days after purchase. Add store@kidology.org to your contacts to ensure delivery.
---
Related Products