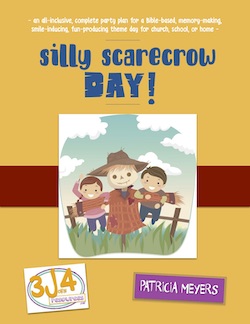 3John4 Resources Silly Scarecrow Day Party Plan
Elementary and Preschool Party Plan
An all-inclusive, complete party plan for a Bible-based, memory-making, smile-inducing, fun-producing theme day for church, school, or home!
Perfect for a Fall Festival or Halloween Alternative Event.
The organizing is easy and the fun is extraordinary. The skits are darling and use Cromwell the Crow puppet (easy to obtain on Amazon.com) but could be done live or with one of your puppets "acting" like a bird (fun and funny).
The lesson covers the diligence of the farmer and the diligence we need to exert over the seed sown in our hearts. We need to be our own scarecrows and scarecrows for those around us.
Included in each party plan manual are complete instructions for organizing one great Theme Day. Every suggestion, idea, skit, and lesson is centered around the theme. You get:
decorating ideas
several themed games
craft ideas
snack ideas
and so much more!
It's everything, seriously.
It even includes a Preschool Adaptation to make it fun for all!
This download resource is available instantly after purchase by clicking on My Downloads at the top of any page.
---
Related Products