Categories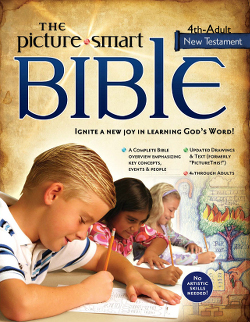 More Details ›
Picture Smart Bible - New Testament (Grade 4 to Adult)
You and your Children will enjoy Bible study like never before!
The
Picture Smart Bible
is a comprehensive overview of Biblical history, geography, important verses, and major themes
of each Bible book designed for Grade 4 Children to Adults.
In this innovative Bible study program, an overview of an entire book is illustrated on a single page. For every book of the Bible you study, you will have a script to follow, a Master Drawing, and a Student Sheet.
Features:
Script written so parent/teacher knows what to say and draw
Lesson Supplies, Key characters and key concepts in the introduction
Simple drawing for any hands to color
See, hear, do method in which the student actually colors one picture for each Bible book
An overview of each book
Scripture references listed for further study
Thumbnail drawings guide the teacher as the lesson progresses
Blank Margins for your personal notes
Maps and Timelines: Show where and when the action occurred
How to Teach: Useful tips from the field
Download a sample.
This download resource is available instantly after purchase by clicking on My Downloads at the top of any page.
---
Related Products