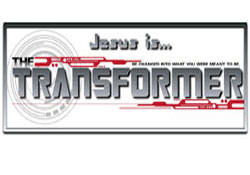 Kids Power Company The Transformer Kids' Church Curriculum Download
4-part Message series for Kids Church or Midweek Program
The Transformer
4-part message series
There are hundreds of examples in the bible where someone had a personal encounter with Jesus, and afterward, their life was changed, never to be the same again! In this series, you will be introducing kids to the transforming power of Christ that can change their life forever too. The kids will be meeting characters from the bible who met Jesus in the flesh, and left His presence transformed; no matter their previous condition!
Lesson 1 - Salvation Power - Related Bible story: Jesus and the four fisherman (Luke 5:1-11)
Lesson 2 - Healing Power - Related Bible story: Jesus and Blind Bartimaeus (Luke 18:35-43
Lesson 3 - Delivering Power - Related Bible story: The Jesus and the demonic (Mark 5:1-20)
Lesson 4 - Conquering Power - Related Bible story: Jesus and Lazarus (John 11:1-46
This series includes character and/or puppet skits for each lesson, related movie clip suggestions from the movie
Transformers
, games, take home sheets, object lessons and more!
Delivery of your curriculum will be via a secure download link sent by e-mail shortly after purchase. Links expire 7 days after purchase.
---
Related Products