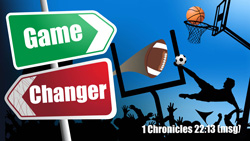 More Details ›
Kids Power Company Gamechanger 6-Week Kids' Church Curriculum Download
Sports Themed Series
This cool sports-themed series will teach how to be a Game Changer for the Kingdom of God. Just as there are pivotal moments or 'plays' in every ball game that can swing the outcome, there are Gamechanging moments in our lives that can result in great victories for God.

The Bible is also full of game changing moments, made by regular guys and ladies, which resulted in unthinkable wins for the Kingdom. This lesson will teach kids that there will be many opportunities in their own life to make a 'play' or to 'do something' that will have a huge, positive impact on their life and the life of others. But it will take courage and confidence in God to make the big play.

Theme Verse:
This is what will make you successful; following the directions and doing the things that God commanded... Have Courage! Take Charge! Don't be timid; don't hold back.- 1 Chronicles 22:13 (MSG)

This curriculum includes PowerPoint slides, take home family devotion sheets, small group discussion sheets, object lessons, character/puppet skits, games, related movie clip suggestions & more!

Delivery of your curriculum will be via a secure download link sent by e-mail shortly after purchase. Links expire 7 days after purchase.

---
Related Products