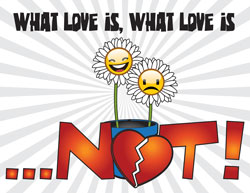 Kids Power Company What Love Is, What Love Is Not 4-Week Kids' Church Curriculum Download
Message series for Kids Church, Pre-teen Ministry, Kids Crusade, Midweek Program
What Love Is, What Love Is Not
4-part message series
How can we know the true meaning of
Love
? There are so many mixed messages out there about this word. Well, the one who originated
Love
tells us very plainly in 1 Corinthians 13.
This series teaches kids about what God says about real, true,
Love
- what it is and what it isn't!
Lesson 1 - Love is generous and kind - The Good Samaritan
Lesson 2 - Love is not rude, proud, or boastful - Haman and Mordecai
Lesson 3 - Love is not selfish - Ruth and Naomi
Lesson 4 - Love keeps no record of wrongs - Jesus and Mary Magdalene
Contains character skits, games, take home sheets, object lessons, and more for each lesson. Also contains related movie clip suggestions from the film,
Wall-E
.
Delivery of your Kids Power Company curriculum will be via a secure download link sent by e-mail shortly after purchase. Links expire 7 days after purchase.
---
Related Products