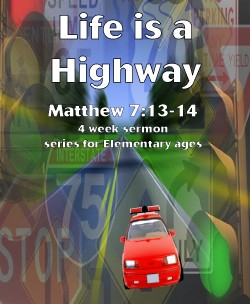 Kids Power Company Life is a Highway Kids Church Curriculum Download
4-part sermon series for VBS, Kids Crusade, Kids Church, Midweek program
Life is a Highway
Kids Church Curriculum Download
Matthew 7:13-14 says "You can enter God's Kingdom only through the narrow way. The road that leads to destruction is broad and the gate is wide for the many that choose that way. But the gateway to life is very narrow and the highway is difficult, and only a few ever find it."
In
Life is a Highway
, kids will learn the keys to choosing and staying on the highway to eternal life. They will also learn the importance of obeying the road signs that God places in our path along life's highway. Contains movie clip suggestions for each lesson from the animated movie
Cars
.
Lesson Titles and Related Scripture or Bible story are as follows:
Lesson 1 - Follow Jesus - the only way
(The rich young ruler)
Lesson 2 - Obey the traffic laws
(Josiah takes a stand for God)
Lesson 3 - Stop and ask God for directions
(Abraham seeks God for direction)
Lesson 4 - Stay on the straight and narrow
(Joseph is tempted to stray)
Life is a Highway
Kids Church Curriculum is designed for ages 6-12.
---
Related Products