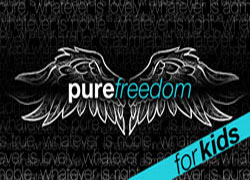 Kids Power Company Pure Freedom for Kids 3-Week Kids' Church Curriculum Download
Message series for Kids Church or Midweek Program
Pure Freedom for Kids
Kids Church Curriculum
This series will help kids understand that God is pure and He created us to be pure and clean; He wants us to be pure in our mind, body and heart!
Pure Freedom
means to break free from anything less than God's very best for us or from anything that contaminates us. God wants our thoughts, behaviors and attitudes to be pure according to Philippians 4:8
Weekly themes and related bible story:
Pure in Mind - Don't let bad thoughts hang around
David and Bathsheba
Pure in Body
Daniel rejects the King's food
Pure in Heart
David is chosen King
This series includes character and puppet skits, related movie clip suggestions from children's movies, take home sheets, object lessons, related games, PowerPoint slides, instructions on how to direct a Purity Ceremony for your church kids and much more!
Delivery of your Kid's Power Company curriculum will be via a secure download link sent by e-mail shortly after purchase. Links expire 7 days after purchase.
---
Related Products