Categories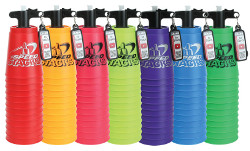 More Details ›
Speed Stacks - Speed Stack Sets
Stack Fast!
Sport Stacking with Speed Stacks is one of the fastest growing new sports in the country. Stackers up stack and down stack 12 specially designed cups in specific patterns using the patented StackMat to measure and record their best times.
Speed Stacks are the only products approved for use in the WSSA sanctioned events and each cup carries the official WSSA seal of approval.
Sport stacking helps promote:
hand-eye coordination
ambidexterity
concentration
bilateral proficiency (equal performance on both sides of the body)
which helps develop

awareness
focus
creativity
rhythm
Each set comes with its own quick release stem along with a link to our Online Training loaded with instructions to help you truly "Stack Fast!"
For more information on contents, and for detailed shipping cost information,
click here
.
Speedstacks ship within U.S. and to Canada only.
Please allow three days processing before your item is shipped.
Learn more
about Sport Stacking and view our full line of Speed Stacks products.
---
Related Products