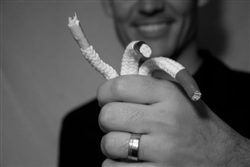 Laflin's Three Ropes to One Downloadable Video
From David and Teesha Laflin
Ever wonder, "how did they do that?!?" This downloadable video gives you the full explanation for how the trick is done.

Concept: Three ropes are displayed. Each rope is tied into a separate circle. When all three circles are tossed into the air, they appear to transform into one large circle.

Lesson: Each of us has been given different gifts by God. This does not mean that some people are better than others. God loves all of us the same and desires for us to come together and share our gifts.

Delivery of your curriculum will be via a secure download link sent by e-mail shortly after purchase. Links expire 7 days after purchase.

---
Related Products