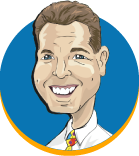 More Details ›
Karl Bastian Coaching Call
Strategic Conversations to Move Ministry Forward
Karl Bastian
provides ministry consultation and coaching on an hourly basis separate from the regular
Kidology Coaching
program. It is designed for those who would like to focus on a specific topic. These strategic conversations can help you move an idea or project forward.
How does it work? Karl will send a survey for you to complete before your call. This will help him get to know you, your ministry, and understand your topic of interest to discuss before the call. This helps him to come prepared with specific information that might be helpful to you during your strategic conversation.
The basic consultation call is 45-60 minutes, though there are additional options listed above. Most calls will be completed within 30 days of purchase depending on your schedule and Karl's.
Testimonials:
Karl Bastian is one of the most creative and enterprising minds in children's ministries in America. He challenges the typical way people think, and that makes him a true influencer of others! - Larry Fowler, Awana Executive Director of Global Training
Karl, I can't tell you enough how absolutely grateful I am to you for your time and creative energy. Your input was just what the doctor ordered. You are so very creative and gifted. Thank you! - Mark Thompson