Categories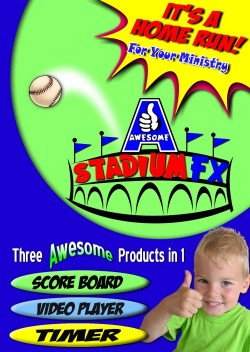 Awesome Video Stuff Stadium FX
Three Products in One
Stadium FX
from AwesomeVideoStuff.com is a colorful animated scoreboard that's easy to use and completely customizable.
Three products in one:
a video player that plays any video file in Windows Media Player using small screen or full screen mode
a customized timer that counts down to zero from any number you set
a stop watch measuring elapsed time
Stadium FX will add a new level of fun and variety to your ministry!
View the demo video.
---
Related Products