Kids Church Online Zone

FREE ONLINE KID'S CHURCH SERVICES FOR USE BY YOUR MINISTRY
During this time while we are unable to gather in person, I am creating ON-DEMAND Children's Church videos for kids and parents to watch at home.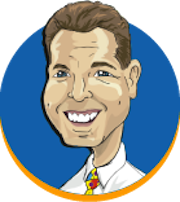 Hello! I'm the Kid's Pastor at Highpoint Church, in Aurora, Colorado. Our state has restricted social gatherings - but we aren't letting that retrict ministry! We are streaming a custom made online experience for adults, and I'm creating online services for our children, and sharing with other churches to use as well, all for FREE.
Since Sunday, March 15th, these Kids Church Online services have been viewed by nearly 50,000 families. Only God knows how many children are enjoying these videos!
CURRENT SERIES IS COMPLETELY FREE: The inaugural Kids Church Online lesson on Fear plus the current series require only a FREE "Never Expires" Starter Membership on Kidology.org. All Access Member have access to all past lessons in addition to the vast resources on this website.
If you find these lessons helpful, please consider supporting our ministry by joining or donating. We are pleased to offer the current series completely free during the CORONA VIRUS epidemic so that all churches, including those facing financial challenges, can have access to them.
NOTE: PARENTS DO NOT NEED TO JOIN KIDOLOGY. Leaders simply send parents the direct viewing link, or host the download in their own closed enviroment. See details at the bottom of each lesson page for complete distribution guidelines.
---
THE CURRENT SERIES - FREE TO STARTER MEMBERS: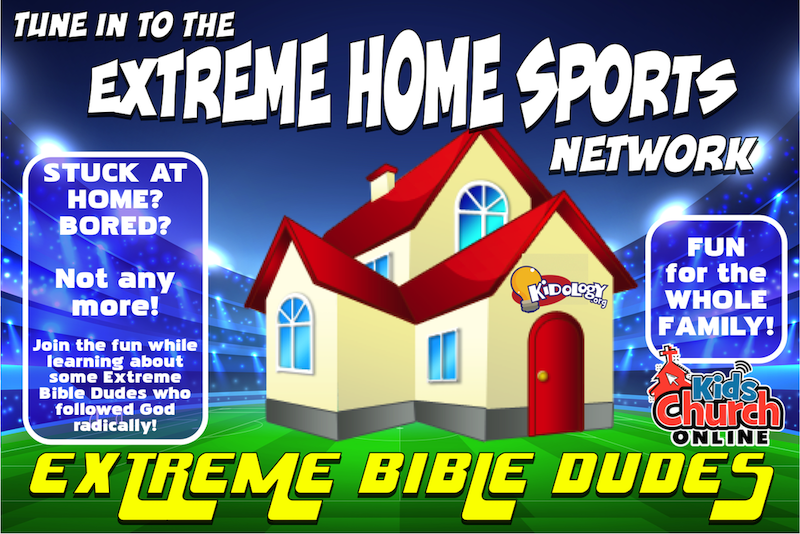 Tune in to the Extreme Home Sports Network for the latest stuck-at-home extreme sports! Whether it's extreme straw shooting, extreme paper airplanes, or extreme taco building, being stuck at home just got exciting!
Join Krazy Karl and Maniac Micah as they compete while learning about some Extreme Bible Dudes who demonstrated their commitment to God through extreme acts of faith.
Whether they're learning about Extreme Lion Taming, Extreme Fire Starting, or Extreme Water Walking, kids will be challenged to demonstrate their own Extreme Faith as they follow God!
---
ALL PAST SERIES' - FREE TO ALL ACCESS MEMBERS:
TO ETERNITY AND BEYOND!
4 Week Series On Bible Basics
(Free to Starter members through 5/31/20)

Taking Kids Where They Have Never Been Before!
It's time to help our kids launch deeper on the Christian Journey! Introducing a fun four week series that will help kids learn how to navigate life as they follow Jesus!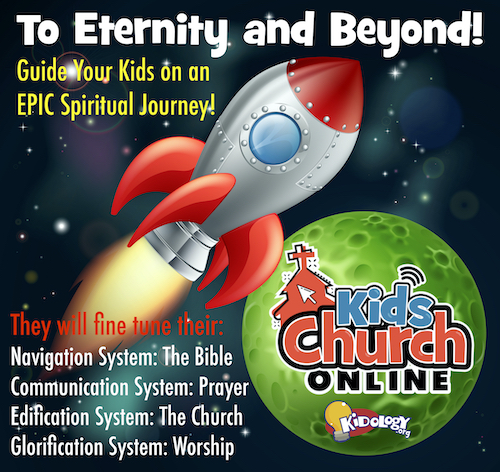 ---

RISE! DISCOVERING JESUS!
4 Week Easter Series
This series explores the Easter message while introducing kids to Jesus Our Redeemer, Jesus Immanuel and Jesus Our Savior, and finally showing them how Jesus is Everlasting!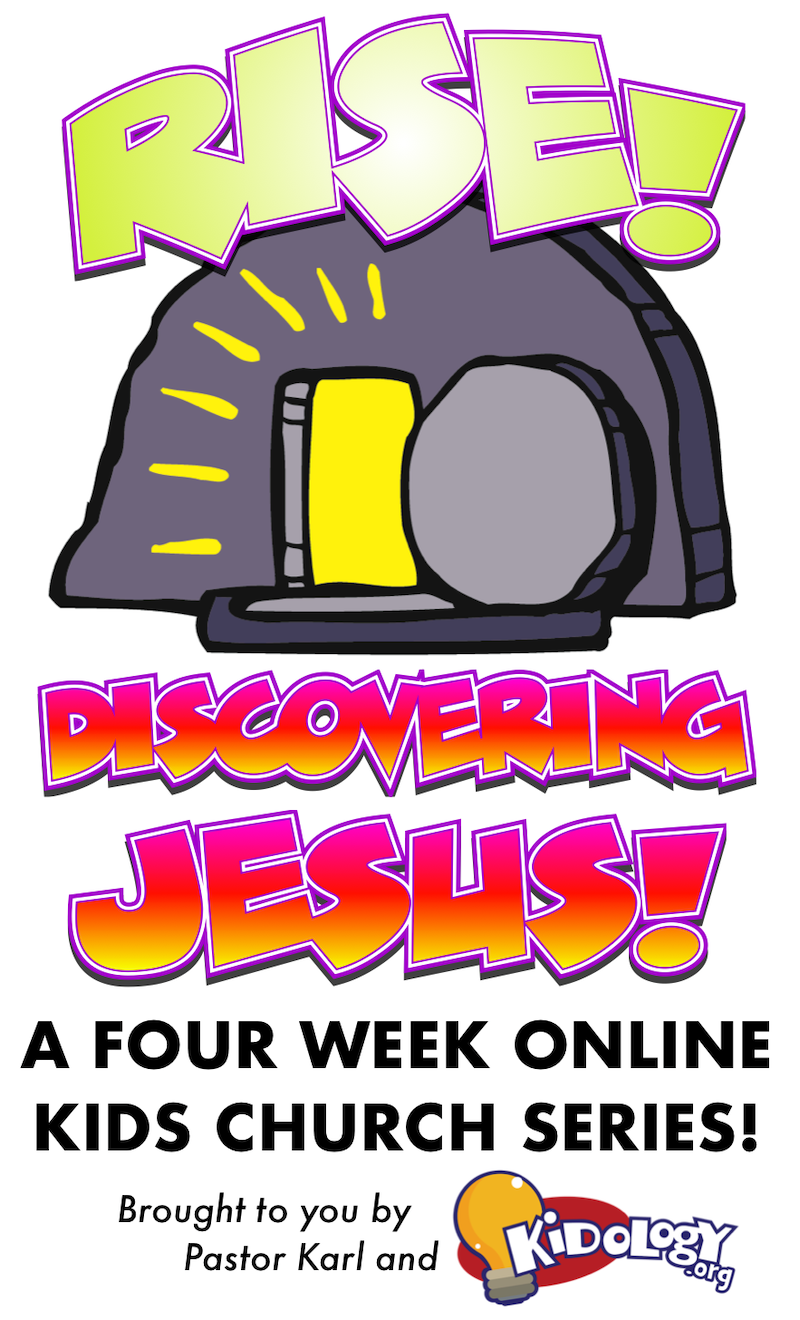 ---


Stand-Alone Lesson on Fear
HAVE NO FEAR! GOD IS HERE! addresses fear in a fun, positive, upbeat style appropriate for children of all ages.
Help your kids discover FOUR PROMISES God made for when we are facing fears.
God is always with us!
God cares for us!
God is bigger than our biggest fear!
God works all things together for good!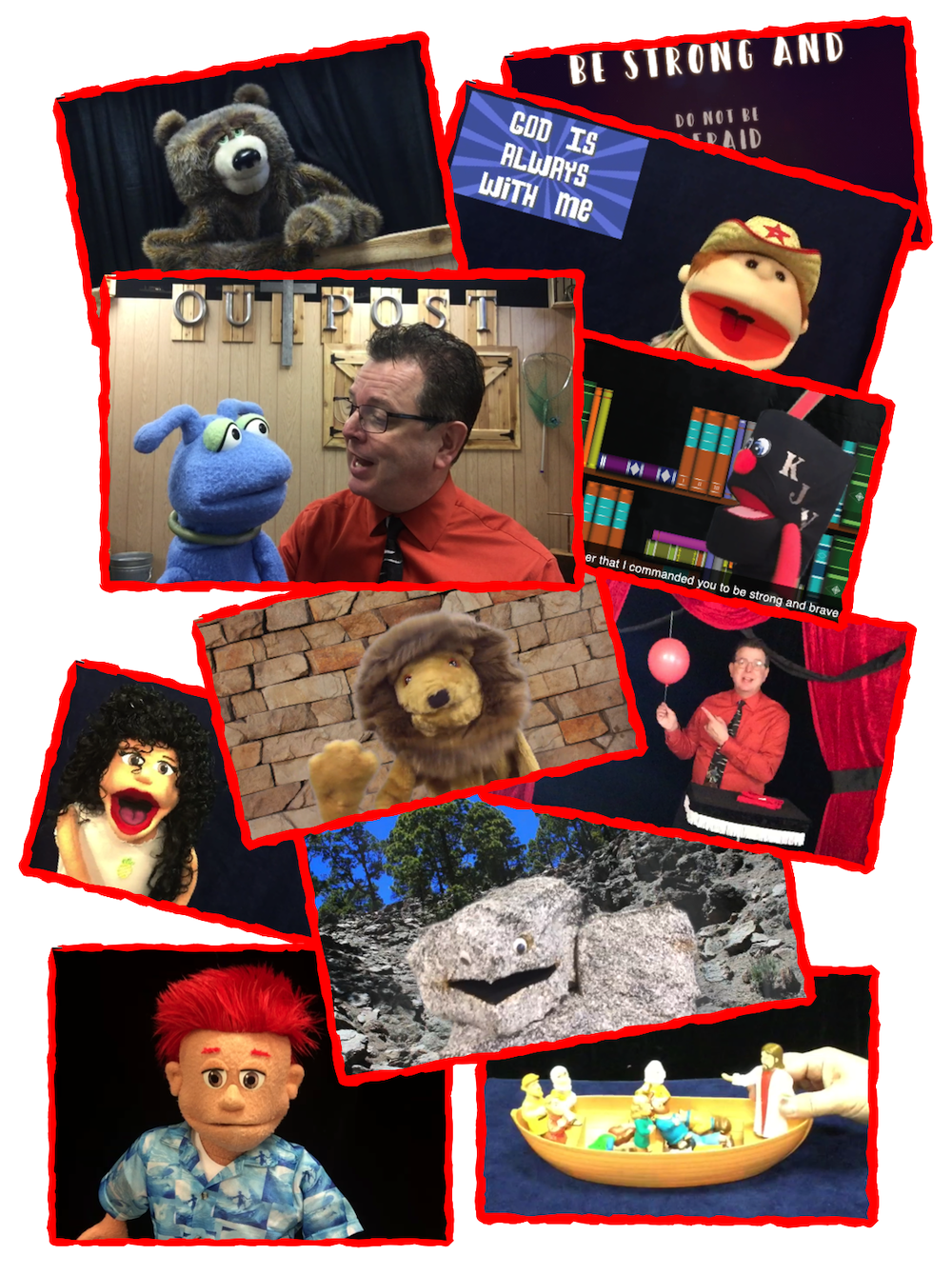 Below you will find a link to each available lesson. The videos are hosted on Vimeo so that you can stream or download for use in your local church.
To help share Kids Church Online, just forward this link: Kidology.org/kidschurchonline
WORSHIP MUSIC in the videos used with permission. For local church use only and within the lesson videos. Support these artists by purchasing their music for broader use in your ministry:
---
Make sure you are on the Kidology Newsletter list to stay informed about new resources we are constantly creating for Children's Ministry leaders!
I hope this will be a blessing to you, your church, and your families and kids!
If you would like to donate to Kidology, visit our Donation Page.
Because Jesus Loves Children,
Pastor Karl Bastian
P.S. Kids Church Online can also be found in the All Stars Kids Club and VBG (Valued by God) Apps in your favorite app store!
‹ Back to Zones
Guest

›
Starter

›
All Access
Level
Title
Topic
Kids Church Online - Sneak and Snoop Bible Detectives
Lesson 1: The Mystery of the Missing Man

Sneak and Snoop are on the case of a missing man! He was sent to Ninevah, but was reportedly last spotted by eye witnesses on a boat headed for Tarshish. The weather forecast is not promising. Will they find the missing man? Will they discover why he went the wrong way? Will they learn why God sent him to Ninevah in the first place? By the end of the adventure they will learn that it is best to obey right away!

Jonah - Obey Right Away
Kids Church Online - Extreme Bible Dudes!
Lesson Two: Elijah and Extreme Bravery

Tune in to the Extreme Home Sports Network! Watch the Extreme Paper Airplane Flying Competition while also learning about an Extreme Bible Dude who brought fire down from Heaven with God's help!

Elijah and Extreme Bravery
Kids Church Online - Extreme Bible Dudes!
Lesson One: Daniel and Extreme Loyalty

Tune in to the Extreme Home Sports Network! Watch the Extreme Straw Shooting Competition while also learning about an Extreme Bible Dude who spent the night in a Den of Lions!

Daniel and Extreme Loyalty
Kids Church Online - To Eternity and Beyond! Lesson Four: Worship

Kids will learn that worship is more than singing: it is anything we do that shows God what He is worth to us. They'll discover that worship is not only Upwards, it's Inward and Outward as well.

Worship - Our Glorification System
Kids Church Online - To Eternity and Beyond! Lesson Three: Church

Captain Karl discovers that Space Ranger Micah is floating off in space outside the ship! He is in danger because he didn't stay connected! The Church is how Christians stay connected so they don't drift away from God.

The Church - Our Edification System
Kids Church Online - To Eternity and Beyond! Lesson Two: Prayer

Captain Karl and Space Ranger Micah find themselves in the middle of a dangerous asteroid field because they weren't communicating! Kids will learn that we need to be in regular communication with God in order to avoid disaster and to grow closer to God!

The Bible - Our Navigation System
Kids Church Online - To Eternity and Beyond! Lesson One: The Bible

Captain Karl and Space Ranger Micah nearly get lost in space when they fail to properly use the Navigation System. Kids will learn the importance of the Bible in navigating life and be challenged to spend time in God's Word every day with a very practical challenge!

The Bible - Our Navigation System
Kids Church Online - RISE! Lesson Four

RISE! Discovering Jesus! Part 4 of a 4 Part ONLINE series for Easter. Topic: Jesus is Everlasting

Jesus is Everlasting (Easter Lesson)
Kids Church Online - RISE! Lesson Three

RISE! Discovering Jesus! Part 3 of a 4 Part ONLINE series for Easter. Topic: Jesus our Savior

Jesus Our Savior
Kids Church Online - RISE! Lesson Two

RISE! Discovering Jesus! Part 2 of a 4 Part ONLINE series for Easter. Topic: Jesus Immanuel

Jesus Immanuel
Kids Church Online - RISE! Lesson One

RISE! Discovering Jesus! Part 1 of a 4 Part ONLINE series for Easter. Topic: Jesus is our Redeemer!

Jesus is our Redeemer
Kids Church Online - Have No Fear! God is Here!

HAVE NO FEAR! GOD IS HERE! is a 30 minute video lesson that addresses the topic of fear in a fun, positive, upbeat style appropriate for children of all ages.

Overcoming Fear
Showing 1 - 12 of 12 results