To Eternity and Beyond! Kids Church Online Series
Kids Church Online provides complete online services you can share with your church families. They feature Pastor Karl's teaching using puppets, videos, magic tricks, worship songs, and so much more! These are complete, self-contained, interactive services that will keep your kids engaged with what's being taught.
THIS SERIES IS FREE TO ALL ACCESS MEMBERS!
from Pastor Karl Bastian and Kidology.org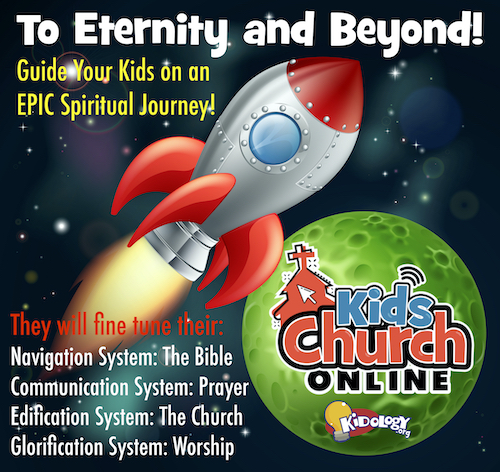 Taking Kids Where They Have Never Been Before!
It's time to help our kids launch deeper on the Christian Journey! Introducing a fun four-week series that will help kids learn how to navigate life as they follow Jesus!
Each video in this series is approximately 15-20 minutes in length.
If you have never seen Karl in action, Starter members can download Have No Fear, God is Here for free! Check it out!

Purchase in the Kidology Store.
All Access Members download free.
Not an All Access Member? Join today!
SERIES OVERVIEW:
LESSON 1: The Navigation System (The Bible!)
Captain Karl and Space Ranger Micah nearly get lost in space when they fail to properly use the Navigation System. Kids will learn the importance of the Bible in navigating life and be challenged to spend time in God's Word every day with a very practical challenge!

Theme Verse: Psalm 32:8
LESSON 2: The Communication System (Prayer)
Captain Karl and Space Ranger Micah find themselves in the middle of a dangerous asteroid field because they weren't communicating! Kids will learn that we need to be in regular communication with God in order to avoid disaster and to grow closer to God!

Theme Verse: Jeremiah 33:3
LESSON 3: The Edification System (The Church)
Space Ranger Micah finds himself floating in space away from the ship because he didn't stay connected! Kids will learn the importance of staying connected to God and each other and that the Church is not the building, it is wherever God's People are!

Theme Verse: Hebrews 10:24
LESSON 4: The Glorification System (Worship)
Captain Karl and Space Ranger Micah finally get the mission launched but not before an argument over who to name the ship after as they both want the glory for themselves. They learn that God deserves all the glory and the ship is given a worthy name. Kids will learn that worship is more than singing, it is anything we do that shows God what He is worth to us. They'll discover that worship is not only Upwards, it's Inward and Outward as well.

Theme Verse: 1 Corinthians 2:9
ALL FOUR OF THESE SYSTEMS MUST BE UP AND RUNNING FOR A SUCCESSFUL ADVENTURE WITH GOD!
Your kids will LOVE these funny, interactive lessons. You will find the Parent Discussion Guide helpful to guide conversation after the video has been watched.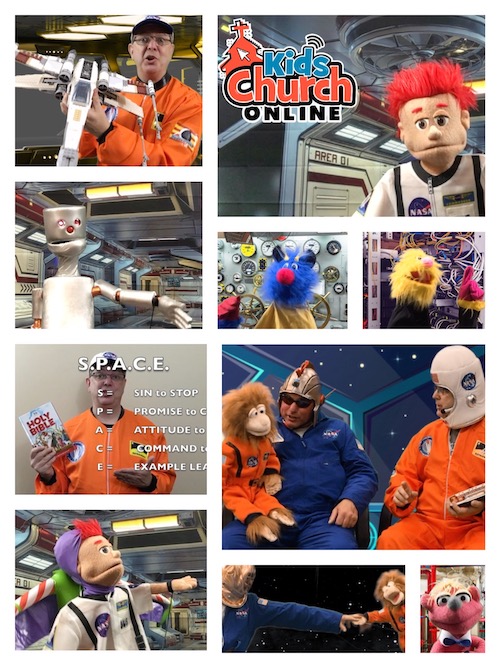 FEATURES:
Funny Dramas
Object Lessons
Bible Verse Robot
Practical Teaching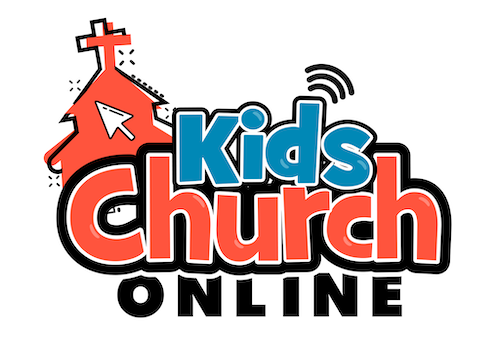 See all the OTHER series at
Kidology.org/kidschurchonline