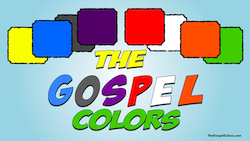 Gospel Colors Download
A FUN, new, simple way to share the GOOD NEWS of Jesus using just 8 colors!
This colorful Gospel presentation originated with Charles Spurgeon in 1866, was updated by the great evangelist D.L. Moody in 1875, to later be popularized by Child Evangelism Fellowship in the 1950s.
It's time for an update featuring new colors, added humor, and racial sensitivity for a new era of sharing the Good News.
Your download includes a printable, foldable presentation, assembly instructions, presentation instructions, and screen images for training kids and leaders!