A Great Way to Get Your Kids Leading Adults in Worship
Membership Level› Guest
Author/Source: Brian Dollar
Topic: Serving, Kids Leading Worship
First Timothy 4:12 commands children to be an example for those older than them. Can children set an example in leading adults in worship? Brian Dollar shares how the kids at his church are able to do so.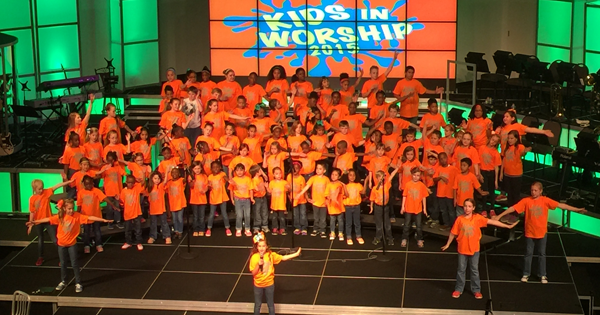 On a Sunday in May our church holds our annual "Kids In Worship" experience. I thought it would be good to share the concept behind this for all of you. It is an amazing opportunity for the whole family.
"Kids In Worship" is an evening of worship, led by our Preschool and Elementary Kids Departments. The children are in charge of the entire adult service in the Sanctuary. It is an evening of worship, led by the kids. The entire family comes together for a night of singing and worship.
We rehearse for months prior to this night. Rehearsals are on Sunday afternoons from 4:30 – 5:30 prior to our Evening Worship Service. The kids put together a set of familiar modern worship songs (to allow the adults to enter in) mixed with some new and original songs. Several children memorize some of their favorite passages of scripture and share them with the congregation between songs.
There is always a time where a group of our oldest children step off the stage and allow the adults to come forward for prayer. These kids pray earnestly for the needs of the adults. We have seen people saved, healed and delivered on these nights. It's amazing!
It's one of my Lead Pastor's favorite services of the year. There is something incredible about a group of kids who are passionate in worship of their God. It is inspiring to all of us! Why not try your own version of "Kids In Worship"?
Have you ever tried something like this? SHARE IT WITH US in the Comments Section of this post!