10 Easy Ways to Partner with Families in Your Ministry
Membership Level› Guest
Author/Source: Kathie Phillips
Topic: Partnering with Parents, Leadership, Equipping
Ten easy steps to help you get started on your goal to partner with families in your church.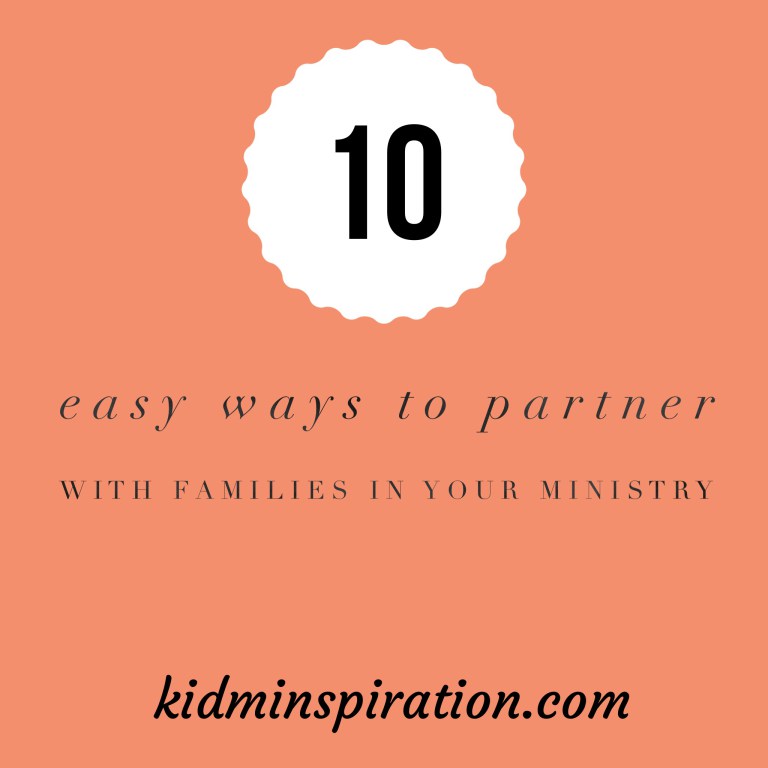 "Partner with parents" is a phrase used quite often in the kidmin, student ministry and family ministry world. There are different ways to define what 'partnering' with parents means, but I define it simply as being a parent's biggest cheerleader. I want to cheer them on as they lead their families. I want to cheer them on as they help their children know, love and follow Jesus. I want to cheer them on as they help their family navigate the culture and world we live in.
While a daunting task and key responsibility for ministry leaders, cheerleading for families doesn't always have to be over-thought. Yes, there should be strategies in place to help move families from here to there, but there are easy ways to make this happen. Here are ten ideas to help you get started:
Ask their opinion. Looking for ideas that a certain age group of kids might like? Looking for the latest trends in games, apps, television shows, etc.? Want to make tweaks or changes in your ministry? Keep your finger on the pulse of what kids like and what kids are talking about by going to kid experts – their PARENTS! I occasionally email parents in my ministry to get feedback and ideas on a variety of things. Doing this shows (1) I don't have all the answers (which I don't), and (2) I value them and their opinion. I have found parents to be very receptive to this!
Provide a playlist of songs being played in your ministry. Give parents a glimpse of good, quality music by sharing your ministry's playlist. You can share this through music streaming services such as iTunes or Spotify. This allows children to hear the music you play in church at home and on the go!
Keep your website updated. Our families are busy. They don't want to search for information on what's going on in your ministry and when. Do them a favor and help them out by keeping your website updated. Include dates, times, pricing, locations and contact information. They will thank you for this.
Ask how you can pray for them. The families we serve are facing so many challenges today and could benefit from our prayer support. One of the greatest ways we can cheerlead for families is to go to God on their behalf. Not only that, but …
Follow up about prayer requests shared. This shows that you care for the families and is a great way to build long-term relationships with them.
Celebrate special milestones. Baby dedications, baptisms, first communions, confirmations, mission trips, etc. are just a few special moments in the spiritual lives of our kids. Join families in celebrating these important milestones!
Be visible. Take the time to greet families as they arrive, mingle in the hallways and see families off as they depart. Wave hello, give a high-five, and don't forget to smile!
Send a welcome note to guest families. This year, our guest family check-in team members began to write postcards to children visiting us for the first time. These cards are written on Sunday mornings after the family has been checked in and escorted to their classrooms. We also send an email to the parents the next day, welcoming them and inviting them to complete our brief guest family survey. [If you would like to see what's included on our survey, you can email me.]
Encourage them. Parenting is tough. Some of our families are really struggling and are just looking for a glimmer of hope. They're looking for someone to give them a pat on the back and say, "I'm proud of you" or "I'm praying with you. Hang in there." If you see them doing something right, let them know. If you see their child doing something right, let them know. If you have a resource that might be helpful to help, share it. Provide a gift card for coffee and a pastry. Ease their burden after a hard day and have a pizza delivered to their house. The small acts of love and kindness will deeply impact the very parents we're trying to reach.
Invite them to serve. I almost didn't include this on the list, but many parents want to be involved in what concerns their children. The key: invite them to serve in AND out of the classroom setting. Maybe parents or grandparents could:

make costumes
provide snacks for volunteers or classrooms
greet families as they arrive
cut out items at home
gather supplies
organize storage areas
design media elements
solicit businesses for donations
Parents today are looking for support but most of all deep, impactful relationships with others who care about their children.
Look over this list and choose at least one way that you can strengthen your partnership with families you serve.