The 7 Most Powerful Letters
Membership Level› Guest
Author/Source: Karl Bastian
Topic: Forgiveness
This simple, fun activity will help kids discover the power of saying "I'm Sorry."
This simple, fun activity will help kids discover the power of saying "I'm Sorry."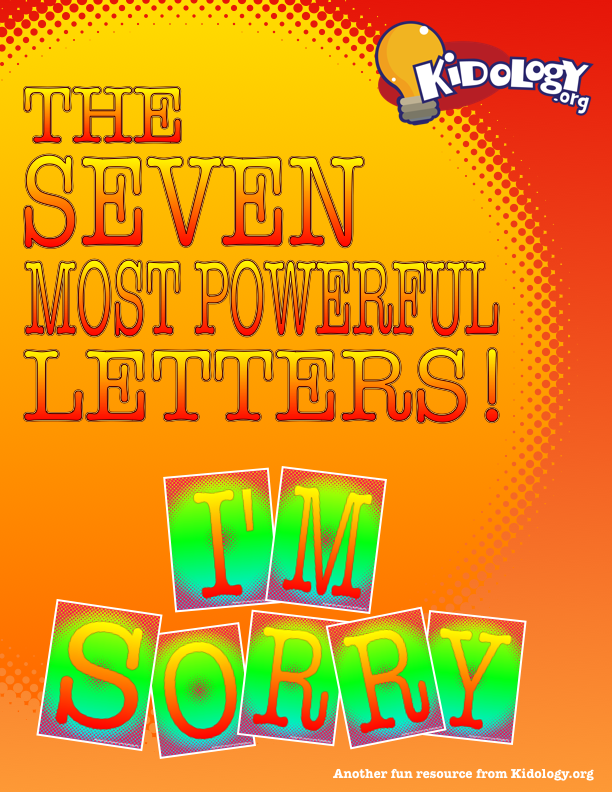 PURPOSE: Help your kids discover the POWER of owning their mistakes and asking for forgiveness so they can experience restoration in relationships.
This is really more of a teaching illustration discussed as a game.
It is for teaching on forgiveness and restoring friendships.

PREP: Print and laminate the PDF download below. So that they aren't see through, either print on card stock or laminate.

PRESENTATION: Invite seven kids on stage to hold these in order, left to right, against their chest with the letters NOT shown to the audience. Have children in the audience take turns guessing letters of the alphabet, letting them know you will turn around ONE letter for each letter they guess correctly. (They will need to guess "R" twice!) As they are guessing, continue to talk about how the letters on these are the MOST POWERFUL WORDS you can say. They can do amazing things!

Once the phrase is revealed, give examples of the AMAZING THINGS these letters can do. Stop things from getting worse. Restore friendships. Get you out of trouble. Restore privileges. Make parents not quite as angry. Reduce consequences. Rebuild trust. Etc.

STEPS TO RESTORING FRIENDSHIP:
1) Face your Failure (Say IM SORRY for whatever YOU did)
2) Forgive your Friend (Accept their apology without excuse.)
3) Forget it Forever (Like it never happened.)
4) Go FORWARD. (Focus on the Future and never look back.)

I have always found this to be a really effective illustration for helping kids learn the power of saying IM SORRY.
- Pastor Karl Bastian