Movie Review: Kit Kittredge: An American Girl
Membership Level› Guest
Author/Source: Nancy Keith
Topic: Movie Review
A review of Kit Kittredge: An American Girl, including description of the movie, areas of concern, teachable themes, discussion questions, and scriptures to use.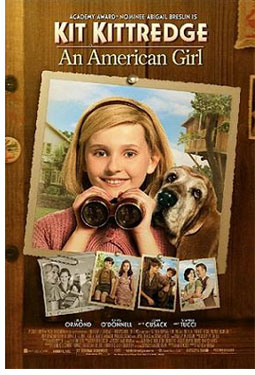 Overview

Kit Kittredge (Abigail Breslin) has a charmed life. She has great parents, a beautiful home, wonderful friends, a tree house where her secret club meets, a formerly-abandoned basset hound, and a typewriter - a necessary item for a Girl Reporter. The movie is set in Cincinnati at the dawn of the Great Depression. Kit's life gets turned upside-down when her father's car dealership goes under and the bank forecloses. Her father (Chris O'Donnell) decides to go to Chicago to try to find work, and her mother (Julia Ormond) agrees to take in boarders in an attempt to keep their house out of foreclosure.

The boarders are a wonderful assortment of people. There is a mother and her son, abandoned by the boy's father, who lost their home to the bank. There is also a dance instructor, a magician, a mobile librarian and eventually a monkey. Two hobos round out the menagerie. There is a lot of local talk about a series of muggings and robberies and everyone is pointing their fingers at the hobos. When these robberies hit home, Kit's bravery, loyalty and crime-solving skills are put to the test.

For the uninitiated, Kit Kittredge is an American Girl. Technically, I guess you could say she is a $90 doll, but for American Girl fans, she is real. There are nine historic American Girl dolls (some of these have friend dolls) each from different time periods. Each doll, er, girl, has a set of books that totally immerse the reader in the respective time period. These books all have morals and lessons to learn. American Girl has sold over 14 million dolls... and over 123 million books about them. You can also buy clothes, accessories, furniture, and much, much more. For girls, the catalogs themselves can be intoxicating!!!

True to the books, the movie-goer is immersed in the 1930's. You can't help but relate what is happening now in our present economic situation to some of the situations in this movie. In an interview with The Canadian Press, Director Patricia Rozema said, "I simply loved the values the script was giving kids. Kit's a journalist, she's fighting for social justice, she's learning not to feel shame for having to wear dresses made out of feed sacks - all that felt like it could be contemporary, although I had no idea all these foreclosures were going to be happening in the U.S. when the movie came out, and that the film would actually end up being quite contemporary."

Kit Kittredge: An American Girl is a wonderful movie. They could have made it sappy sweet to where you would expect Daddy Warbucks to pop out with Annie singing "Tomorrow" right beside him, but this is a different movie. This is an intelligent, sincere movie that never goes for cheap laughs. It never condescends. The children are somewhat precocious, but they never disrespect adults. The cast possess a vast amount of talent and it shines through.


Concerns

In light of all the things that take place in current children's movies, these seem like minor infractions, but may need some further discussion with your children:
There are a few references to Robin Hood stealing from the rich and giving to the poor, and while this is mildly refuted at the end, this whole issue might be one that you would discuss with your children.


A little boy in this film forges a letter to his mother from the father who abandoned them to make her feel better.


Kit and her friend go through the possessions of one of the boarders to try to find evidence against them.


Teachable Themes
Friendship
As the Depression effects different friends in this community, there are different reactions to those who have and don't have money. As the Beatles quite aptly put it, "Money can't buy me love!" Nor can money buy good friendships. Proverbs 19:4 says, "Wealth makes many "friends"; poverty drives them all away." The "friends" that wealth makes are not real friends.


Do Not Boast About Tomorrow
As the Depression deepened, Kit and her mother discussed things that would never happen - they would never sell eggs and they would never make dresses out of feed bags. Both of these did happen. James 4:13-14 says, "Look here, you who say, "Today or tomorrow we are going to a certain town and will stay there a year. We will do business there and make a profit." How do you know what your life will be like tomorrow? Your life is like the morning fog — it's here a little while, then it's gone." This is why we need to trust God no matter what happens.


Helping Others
When we see hurting people, our response should be to help. Kit and her class take on a project of working in a soup kitchen. Some of her fellow classmates balk at even the thought of this because of their attitudes towards the poor. Proverbs 11:30 says, "The seeds of good deeds become a tree of life; a wise person wins friends."


Determination
Kit was determined to be a Girl Reporter. No matter how many times she was outright rejected by the editor of the newspaper, she kept doing what she was doing and eventually it paid off. Philippians 1:6 teaches us this, "being confident of this, that He who began a good work in you will carry it on to completion until the day of Christ Jesus."


Accepting Others
The boarding house that Kit lives in is a virtual menagerie of characters, yet everyone is accepted for who they are. Ephesians 4:32 tells us, "Be kind and compassionate to one another, forgiving each other, just as in Christ God forgave you."


Don't Look On the Outside
The hobos in this movie were not portrayed as degenerates, but people who were down and out. While some tried to criminalize them, others tried to understand them and help them regardless of their outward appearance and station in life. 1 Samuel 16:7 says, "But the LORD said to Samuel, "Do not consider his appearance or his height, for I have rejected him. The LORD does not look at the things man looks at. Man looks at the outward appearance, but the LORD looks at the heart."


Family
When Kit's father tells her he is going to Chicago to find work, he also tells her that things were not going to fall apart... that everything was going to be okay. Kit's reply, "You said we were going to be okay. We're not okay if we're not together!"


Don't Give Up When Times Are Tough
Kit's father, despite everything that was going on around them, continually told Kit to never give up. His words, "Don't let it beat you," he tells Kit. "We can't let it beat us, sweetheart." Indeed we are shown over and over again in this film that you can live and prosper, though maybe not financially, even in the hardest times. We learn from James 1:2-4 to, "Consider it pure joy, my brothers, whenever you face trials of many kinds, because you know that the testing of your faith develops perseverance. Perseverance must finish its work so that you may be mature and complete, not lacking anything."


Can't Buy Me Love
I think of 1 Corinthians 13 in this regard. You can have everything at your disposal in this world, but without love it means nothing. In the end, Kit might not have had much materially, but she had the world.


Biblical References

There are no obvious Biblical references. In fact, the one thing that is missing in this period piece is a religious reference since it would have been so prevalent in that day in time to go to church and seek comfort in a house of worship or some form of religion. However, there are quite a few parallels that can be made, as noted in the "Teachable Themes" above.


Discussion Questions
What was the Great Depression? In what ways how is it like the times we are in today?
How did you feel about Kit's friends who lost their home? What would you say to them?
Does it really matter what kind of clothes someone wears? Does it matter more what is in their heart? Does the outside of a person tell you what the inside of a person is like?
How can we help people in need?
All families go through times when money is tight. Parents don't like to say "NO" and not buy everything you want, but sometimes it is necessary. What should our response be? How should we treat our parents in every circumstance?
What kinds of things can you do when you are going through a tough time?

Discuss this movie review
(Kidology Network Forums)