Movie Review: Horton Hears a Who
Membership Level› Guest
Author/Source: Brett Richmond
Topic: Movie Review
A review of Horton Hears a Who including description of the movie, areas of concern, teachable themes, discussion questions, and scriptures to use.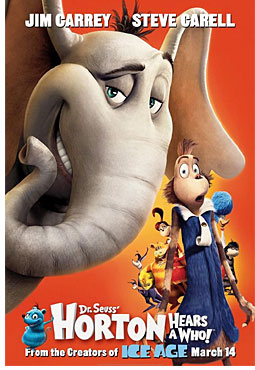 Overview

The most recent cinematic experience from the Dr. Seuss library is Horton Hears a Who. This movie takes you on a great adventure with vibrant and lively characters that the whole family can enjoy.

The movie starts out with Horton (an elephant) acting as a teacher for some of the younger residents of the jungle. Horton quickly shows himself as a carefree, imaginative mentor with a childlike innocence. The local busy bodied alarmist dictator who rules the jungle through fear, the Kangaroo Mom, does not appreciate these endearing characteristics. In Kangaroo's mind, Horton becomes completely intolerable when he discovers the speck that is home to Whoville. She demonstrates great hostility towards any belief that isn't grounded in tangible, scientific proof. Since she can't hear the microscopic Who people she immediately puts plans into action to eliminate the speck and drive Horton out of the jungle.

In Whoville, the Mayor is trying to make sense of this new realization that their world is only a speck and poised for catastrophe. The Mayor is in a power struggle with the city counsel and his own feelings of ineptitude, which are only enhanced by constantly being called a "boob" by the Chairman of the City Counsel. With the help of Horton, the Mayor eventually convinces the people of Whoville of the reality and frailty of their world.

Horton has discovered that his world is dramatically affecting Whoville in catastrophic ways. He commits to deliver the speck to a place of safety and tranquility where the Who people can live out their lives. To complete his mission Horton must traverse a rickety bridge that's unable to sustain the weight of a feather let alone a multi-ton elephant. Horton also has to battle the evil Vlad (a vulture) for possession of the speck ultimately losing out to Vlad who deposits the pink clover, which houses the speck, in a field of millions of pink clovers.

But Horton presses on searching through millions of pink clovers before finally becoming reacquainted with his new friends. On his way to deposit the clover in a high mountain cave Horton runs into the Kangaroo Mom who has rallied all the other jungle animals to imprison Horton and destroy the speck.

Meanwhile the people of Whoville are frantically trying to make enough noise to be heard by all the other animals whose ears are too small to hear them. Will the people of Whoville be saved? What will come of Horton with the whole jungle against him?


Concerns

Horton Hears a Who is an authentic "G" rated children's movie. Compared to other children's movies that have been released in the past few years, Horton is an image of purity. But we are not comparing Horton to other movies and even though there aren't any modern profanities, there are some words and names that can be considered inappropriate, words like "boob" (not the female anatomy, the descriptive term for a foolish person) and "idiot" are mentioned on several occasions.

For younger children, a few scenes might appear to be too scary or intense. These scenes take place when the Kangaroo Mom and the Vulture (Vlad) conspire together to capture the "speck". There are a couple of surprise moments and a chase scene with Horton and Vlad that could be scary for very young children.

One of the more offensive scenes is much more subtle and will probably only be noticed by adults... the negative example that the Kangaroo demonstrates of "Pouch" (home) schooling. The mother Kangaroo is overbearing, over-sheltering, and over-controlling of both her child and the forest community. It's not until the end of the movie that the child Kangaroo is even able to escape his mothers pouch, against her wishes of course. On more than one occasion, the Kangaroo Mom demonstrates common negative stereotypes of home school families. The most blatant instance is when she states "and that's why we pouch school" in reference to Horton who helps to teach the other animal children.


Teachable Themes
Faith
"If you can't see, touch, hear, or feel it, it doesn't exist!" is the Kangaroo Mom's response to Horton when he tells her about the "speck" and the people who live on it. The Kangaroo Mom continually utters this phrase and becomes very hostile to the very idea of believing in something that you can't hear, touch, see, or feel; in other words faith. Horton becomes the antagonist to her beliefs when he hears a faint sound and discovers that it's coming from the "speck", even though he can only hear them when he's quiet and still. At the end of the movie, the faith theme is brought full circle as those who have bought in to the Kangaroo Mom's beliefs embrace the faith when they too are quiet, still, and are able to hear the noise coming from the "speck".


Everybody Matters
"A person's a person no matter how small." This is the theme of Horton's life. Horton demonstrates a great love for all the creatures and critters that live in the jungle. This deeply held belief drives Horton to venture over a rickety bridge, battle the evil Vlad, and risk his own banishment from the jungle to make sure the residents of Whoville are safe.


Losing Something You Cherish
"He searched through millions of clovers." Horton's greatest crisis surfaces when Vlad (not the bunny with the cookies) drops the clover with the speck on it into a field where millions of pink clovers reside. Horton is devastated, his heart is broken, and the loss and failure of his mission is traumatic. However, Horton makes a determined choice not to fail and not to lose the clover that has become so important to him. So he searches and searches through thousands and millions of pink clovers in hopes of finding the single one that houses the speck. The tenacity of Horton's search is reminiscent of the woman who searches for the lost coin in Luke chapter 15.


Biblical References
Faith:

Ephesians 3:12 - "In him and through faith in him we may approach God with freedom and confidence."


2 Timothy 1:2 - "That is why I am suffering as I am. Yet I am not ashamed, because I know whom I have believed, and am convinced that he is able to guard what I have entrusted to him for that day."


Hebrews 11:1-3 - "Now faith is being sure of what we hope for and certain of what we do not see. This is what the ancients were commended for. By faith we understand that the universe was formed at God's command, so that what is seen was not made out of what was visible."



Everybody Matters:

Luke 15:1-2 - "Now the tax collectors and "sinners" were all gathering around to hear him. But the Pharisees and the teachers of the law muttered, "This man welcomes sinners and eats with them."


1 Corinthians 12:21-26 - "The eye cannot say to the hand, "I don't need you!" And the head cannot say to the feet, "I don't need you!" On the contrary, those parts of the body that seem to be weaker are indispensable, and the parts that we think are less honorable we treat with special honor. And the parts that are unpresentable are treated with special modesty, while our presentable parts need no special treatment. But God has combined the members of the body and has given greater honor to the parts that lacked it, so that there should be no division in the body, but that its parts should have equal concern for each other. If one part suffers, every part suffers with it; if one part is honored, every part rejoices with it."


Acts 2:44-45 - "All the believers were together and had everything in common. Selling their possessions and goods, they gave to anyone as he had need."



Losing Something You Cherish:

Luke 15:4-7 - "Suppose one of you has a hundred sheep and loses one of them. Does he not leave the ninety-nine in the open country and go after the lost sheep until he finds it? And when he finds it, he joyfully puts it on his shoulders and goes home. Then he calls his friends and neighbors together and says, 'Rejoice with me; I have found my lost sheep.' I tell you that in the same way there will be more rejoicing in heaven over one sinner who repents than over ninety-nine righteous persons who do not need to repent."


Luke 15:8-10 - "Or suppose a woman has ten silver coins and loses one. Does she not light a lamp, sweep the house and search carefully until she finds it? And when she finds it, she calls her friends and neighbors together and says, 'Rejoice with me; I have found my lost coin.' In the same way, I tell you, there is rejoicing in the presence of the angels of God over one sinner who repents."


Luke 15:20-24 - "So he got up and went to his father. "But while he was still a long way off, his father saw him and was filled with compassion for him; he ran to his son, threw his arms around him and kissed him. "The son said to him, 'Father, I have sinned against heaven and against you. I am no longer worthy to be called your son.' "But the father said to his servants, 'Quick! Bring the best robe and put it on him. Put a ring on his finger and sandals on his feet. Bring the fattened calf and kill it. Let's have a feast and celebrate. For this son of mine was dead and is alive again; he was lost and is found.' So they began to celebrate."
Discussion Questions
Faith:

What are some things that you can't see, touch, feel, or hear that you believe in?
Do you believe in God? If you do; why do you believe in God? If you don't; why not?
How has God become real in your life?
How have you seen God's involvement in other people's lives?



Everybody Matters:

What is the smallest insect your can think of? Research them to find out how they contribute to their ecosystem.
How useful is your pinky? Have you ever tried taping your pinky to your ring finger, is it easier or harder to do things like hit a baseball, swing a golf club, write a sentence, or type on a computer?
What do you think of Horton's belief that "a person's a person no matter how small"? Do you agree or disagree?
What do you think "a person's a person no matter how small" means?



Losing Something You Cherish:

Have you ever lost something that was really important to you? What did you do?
What would you do to find it?
Losing something you cherish can be sad and difficult, how do you think God feels about people who don't believe in Him? What do you think God has done to help people find Him?

Discuss this movie review
(Kidology Network Forums)