Shark Tale Movie Review
Membership Level› Guest
Author/Source: Jeramy Chapman
Topic: Movie Review
Oscar has aspirations of living big and his schemes usually fall short. However, since claiming to be a "Shark Slayer," Oscar has been living it up! But it's only a matter of time before this scheme comes crashing down!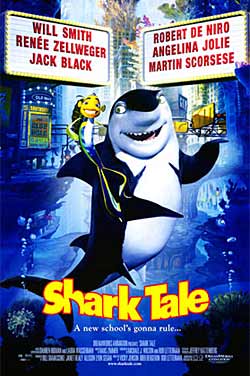 The Story
Dreamworks' latest CGI venture, Shark Tale, tells the story of a young fish trying to "become somebody." Voiced by Will Smith, Oscar is a tongue scrubber at the local Whale Wash who befriends Lenny the Shark, played by Jack Black, through a bizarre twist of circumstances. Oscar finally "makes it big" with Lenny's help, but in the tradition of Oscar's other schemes, it will eventually catch up to him.

How does it stack up?
Having seen Dreamworks' previous computer-animated pictures (Shrek, Shrek 2), I had high expectations for this movie. Those expectations were not met... not even close. While the animation is stunning as always, the movie is mediocre in every other category. In its attempt to be hip and cool, Shark Tale fell short in story and in original humor. There are a few entertaining references to other movies such as Titanic and "any mobster movie ever made" but overall the movie fell short of expectations.

Positive Elements
There are several positive elements about this movie. Oscar gambles, lies, schemes, and gets caught every time... usually in a painful way. Angie, Oscar's love interest, is a great character. She encourages Oscar to make wise choices and generally does the exact opposite of whatever Oscar wants to do. The movie does a great job of teaching contentment as it shows that being famous and rich isn't all it's cracked up to be.

On the flip side
Negative elements in this movie generally center on the mafia. Gambling, violence, uncontrolled anger, cheating, and lying can all be seen in some form or fashion throughout the movie. Lola, a seductive fish, uses all of her charm and physical appeal to lure people her way, and one shark makes a reference to wishing they were not married in her presence. Offensive language generally centers on body noises, though there is a threat made by the Godfather that references maggots and burning in h---. There are also several scenes of body humor (gas, belching) if that sort of thing bothers you.

Probably the biggest rumbling to come out of this movie is the underlying issue of Lenny's lifestyle – he's a vegetarian. This wouldn't be a big deal on the surface, but several movie reviews have commented on the similarity to gay lifestyle tolerance. The movie makes reference to "coming out" and "love no matter what the lifestyle."

Final thoughts
Despite using a star-studded cast and a hip soundtrack, Shark Tale falls short of other CGI fish movies (like Finding Nemo) and may leave audiences disappointed. There was one part, however, that made me laugh out loud... the Dreamworks title sequence. Very funny, very original.