Movie Review: The Sorcerer's Apprentice
Membership Level› Guest
Author/Source: Nancy Keith
Topic: Movie Review, Reviews
A review of The Sorcerer's Apprentice, including description of the movie, areas of concern, teachable themes, discussion questions, and scriptures to use.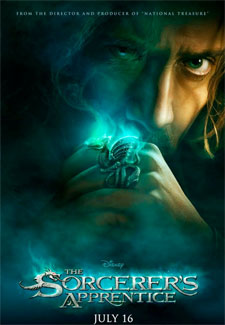 Overview

Balthazar Blake has been charged by Merlin, himself, to find his replacement. He has been searching for close to 1,300 years. His search brings him to modern day Manhattan where he is interrupted by 10-year-old David Stutler who appears to have "the gift." Enter arch-nemesis, Maxim Horvath, and things go downhill fast. Balthazar and Maxim fight, and get sucked into an urn. David Stutler has to change schools and go into counseling to escape what he experienced.

Fast forward ten years. David is a nerdy physics student/genius. Balthazar and Maxim escape the urn. A major threat to all mankind is brewing and Balthazar must train his reluctant protégé to stop the forces of darkness. Harry Potter trains incessantly to become a wizard, but David gets a crash course. In the end, the world is safe and both Balthazar and David get their girls.

This 121 minute movie is based on an 11 minute segment from Fantasia…you know, where Mickey is working for a sorcerer and oversteps his bounds by commanding the mops and buckets. Sans Mickey, that scene is actually in this movie.

There are some positive elements to this movie. David cannot lie. Truthfulness is a character of greatness to Balthazar. You must also be inherently good. "Love and strength of purpose" are what separates the good from the bad ones. Purity is important.

Concerns

For Christians this movie is going to be a hard one. Deuteronomy 18:9-11 warns us about this stuff. It is full of sorcery and magic, pentagrams and other occult symbols. Balthazar tries to explain that this is not really magic; rather an offshoot of physics…and the end solution in the movie is sort of solved by physics rather than magic. You just can't escape the sorcery.

God's name is misused several times and there are two other language uses. The use of alcohol is mentioned.

There is a good deal of violence. It is downright scary at times...and other times comical. Knives are hurled and so are plasma balls. Folks are trapped into mirrors, chased by wolves and hit up the side of their head by trash cans. Very few die in this movie…and the deaths are not graphic, rather overpowered by the special effects.

Teachable Themes
Tell the Truth
In this movie we are told that truthfulness is the mark of a great person.


There is a Plan for Our Lives
Dave has a destiny in this movie...and so do we.


We Choose the Path We Take
Dave has a choice to be a hero or be a zero and he chooses to step up to the plate.


Be a Person of Good Character
Strive to be a person of good integrity in all you do.


Be a Person of Courage
When Dave was scared he could have just done nothing, instead he found the courage to do what was right.


Biblical References
Tell the Truth

Proverbs 17:20 "The crooked heart will not prosper; the lying tongue tumbles into trouble." (NLT)
Proverbs 19:5 "A false witness will not go unpunished, nor will a liar escape." (NLT)


God has a Plan for Our Lives

Jeremiah 29:11-12 "For I know the plans I have for you," declares the LORD, "plans to prosper you and not to harm you, plans to give you hope and a future. Then you will call upon me and come and pray to me, and I will listen to you." (NIV)


You Must Choose Whom You Will Serve

Joshua 24:15 "But if you refuse to serve the LORD, then choose today whom you will serve. Would you prefer the gods your ancestors served beyond the Euphrates? Or will it be the gods of the Amorites in whose land you now live? But as for me and my family, we will serve the LORD."" (NLT)


Be a Person of Good Character

Philippians 4:8 "And now, dear brothers and sisters, one final thing. Fix your thoughts on what is true, and honorable, and right, and pure, and lovely, and admirable. Think about things that are excellent and worthy of praise." (NLT)


Don't Be Afraid to Do What is Right

Deuteronomy 31:6 "Be strong and courageous. Do not be afraid or terrified because of them, for the LORD your God goes with you; he will never leave you nor forsake you." (NLT)


Detestable Customs

Deuteronomy 18:9-11 "When you enter the land the LORD your God is giving you, be very careful not to imitate the detestable customs of the nations living there. For example, never sacrifice your son or daughter as a burnt offering. And do not let your people practice fortune-telling, or use sorcery, or interpret omens, or engage in witchcraft, or cast spells, or function as mediums or psychics, or call forth the spirits of the dead. " (NLT)


Discussion Questions
Have you ever been called on to do something you thought there was no way you could do? What happened?


Why is it important to tell the truth?


What qualities do you think a truly great person should have?


What kind of things are you afraid of?


Have you ever had to stand up for what was right in a very hard situation?


What do you do when you are afraid?


Conclusion

The Sorcerer's Apprentice has a great story, is well acted, and is full of fun special effects, but at what price? Even though they try to scientifically explain away the sorcery, all of the occult images are pretty disturbing and can be scary, too. Is it science? Is it magic? "Yes and yes," according to Balthazar. Still with all of the other great movie choices out there, this would not be my first choice of a family film this summer...it would be way down the list.