10 Essential Classroom Supplies
Membership Level› Guest
Author/Source: Janelle Hoos
Topic: Classroom Supplies
Do you have a list of classroom supplies? Here are my top ten essential classroom supplies.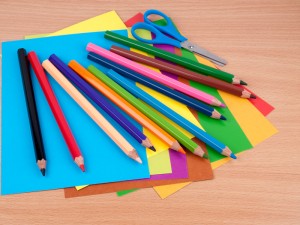 If you were to ask children's ministry leaders or Sunday School teachers what the essential supplies for the classroom were, you would probably get a wide variety of answers. Those answers would reveal what is felt to be most important in the classroom and they would also reveal the personalities of the teachers/leaders.
I believe that Sunday School is all about discipling kids. In Sunday School kids discover who God is and who we are. They discover the Bible that is God's Word to us; they learn to understand how the Bible is put together and how to read it and study it for understanding. They learn to apply the truth found in the Bible to their own lives.
So, here's my list of essential classroom supplies:
Bibles- Always have extra Bibles on hand. Kids who have forgotten theirs can borrow one and kids who don't have a Bible can have one.
Bookmarks- We don't want kids to just bring their Bibles; we want them to use their Bibles! Often though, kids lose their place or close their Bibles and then the class is distracted as one or more kids have to find the passage again. Have some bookmarks on hand and ask your class to look up the passage and then bookmark the page. Find bookmarks that highlight God's character, list the books of the Bible, or simply share the gospel.
Bible maps & atlas- Having these available in the classroom gives kids the opportunity to see that the places in Bible stories are real. Looking at maps and atlases helps kids understand context and makes the stories come alive. They can see mountains and lakes and oceans and wilderness. These resources also help kids start to understand distances and how far Bible characters travelled. Seeing locations on a map in relation to each other also helps the kids put numerous stories into context.
Bible dictionary/Handbook- Having a Bible dictionary in the classroom allows teachers to encourage students to discover on their own. If a student asks a question about a word or a Bible character they are unfamiliar with, the teacher can show them how to find the answer using a Bible dictionary. These great resources can also be called Bible handbooks.
Concordance- A concordance is an index to the Bible. Arranged in alphabetical order, it shows the location of the major words (or in the case of an exhaustive concordance, all the words) in the Bible. Helpfully, it also provides several words of the context in which each word is found. For example, if your class is studying the fact that God is good, you could look up the word good in the concordance and note all the references that speak of the fact that God is good. If you have internet access in your classroom, you can use www.biblegateway.com. Although not exhaustive, it is very helpful as a concordance resource.
Construction paper- Have lots of different colors available. Construction paper can be used for lesson time, application time, and game or craft time. Kids can be creative as they interact with Biblical truth.
Plain paper- Plain paper (lined or unlined) can be used for so many different things. Some kids like to take notes; others like to draw what they are learning. Paper can be used for lesson time, application time, game time and craft time. Use it for review games or comic strips. It's a great, simple resource for getting kids involved.
Markers/pencil crayons/crayons- Now, I know this one seems a little obvious! Provide markers that are washable. If you teach toddlers, the little fat ones are perfect for little hands that are still developing small motor skills. A variety is good, if possible. Sometimes different mediums are needed. It can be a bit of a hassle making sure pencil crayons stay sharpened (depending on the size of your class!) This is a good opportunity to give some responsibility to your students. Give them the job of keeping the pencil crayons (and pencils!) sharpened.
Pencils- You may ask why I specify pencils here. There is nothing wrong with pens, but pencils are a better tool when working with kids. Depending on their developmental level, kids may be struggling with spelling or wanting things to be perfect. When you give them pencils to use, you are setting them up for success by making it easy to erase and try again!
Erasers/pencil sharpeners- On that note, erasers and pencil sharpeners are the last essential supplies for the classroom on this list. Depending on the size of your class, you may want multiple small pencil sharpeners. Make sure you have lots of erasers as well.
Bonus: Current world map- A current world map is not essential but I recommend it. A current world map used alongside a Bible atlas and Bible maps can be so helpful for kids. They can see that the stories in the Bible took place in real places. It also helps them to gain some perspective.
A world map can also be used to highlight missions. Put stickers to indicate where missionaries that your class is praying for are working.