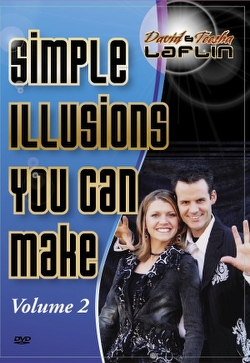 David and Teesha Laflin's Simple Illusions You Can Make Volume II DVD
Share and teach with these amazing illusions!
REDUCED PRICE!
Simple Illusions You Can Make Volume II brings you ten more incredible tricks you can do with everyday objects. Watch as David and Teesha not only perform each illusion, but share the message with it as well. Then, go behind the scenes to learn how each trick is done. For every illusion a scripture reference is given to aid in further teaching.
Featured on this DVD:
The One and Only (Checker prediction)
Be Transformed (Water to ice)
Shielded by Faith (Pencil through dollar)
How "sweet" it is! (Dollar bill to sugar packet)
Restored (Cut and restored rope)
And much more!
---
Related Products