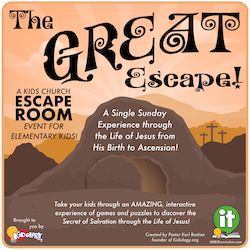 More Details ›
The Great Escape Super Sunday Download
Discover the Secret of Salvation through the Life of Jesus!
This stand-alone SUPER SUNDAY lesson is meant to "break the mold" and do something different and fun on those "gap Sundays" between series.
The Great Escape - A Kids Church Escape Room Experience
is a super fun, interactive experience for elementary children.
This event will take kids through nine stations, each exploring a phase of Jesus' life where they will learn a key phrase from that stage and complete a challenge or participate in a fun activity. For each completed phase, they will receive a puzzle piece.
Once they have all nine puzzle pieces, they will complete the puzzle, tape it together, and turn it over to discover the phrase that will allow them to "ESCAPE" and win the game! That same phrase contains the secret to escaping the consequences of sin and entering heaven! (John 14:6)
Read more about The Great Escape and watch a video explanation of the event, plus a highlight video!
All Access members can purchase these files at a 50% discount! If you're not already an All Access member, you can
join today!
This download resource is available instantly after purchase by clicking on My Downloads at the top of any page.
---
Related Products