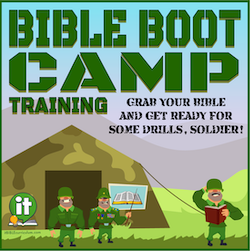 More Details ›
Bible Boot Camp Training Day Super Sunday Download
Fun Games to Drill Kids in Navigating their Bibles!
This stand-alone SUPER SUNDAY lesson is meant to "break the mold" and do something different and fun on those "gap Sundays" between series.
This Army-themed
Bible Boot Camp Training Day Super Sunday
is a way for kids to GEAR UP with their Bibles and have some FUN working with their friends (Squad) to play competitive games while learning how to navigate their Bibles, look up Bible verses, and review key Bible stories and concepts… all while having a blast! 8 Different Bible-Based Challenges (games) are included, each containing a physical and Bible challenge.
Read more about Bible Boot Camp Training Day and watch a setup video and highlight reel!
All Access members can purchase these files at a 50% discount! If you're not already an All Access member, you can
join today!
This download resource is available instantly after purchase by clicking on My Downloads at the top of any page.
---
Related Products