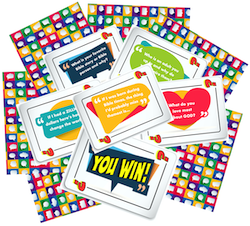 More Details ›
KID CONVERSATION CARDS GET KIDS TALKING!
Perfect for Small Groups, or any setting where you want to get kids talking: small groups, camp cabins, pre-service, VBS, child-care settings, etc.Leaders hold a small deck of cards face down, one of which wins a prize! (The prize can be anything you want it to be, big or small. The point is to offer a chance to WIN.)It's a fun, easy way to create anticipation, engage kids in conversation, and learn more about their students. These Kid Conversation Cards will open the door to many thoughtful conversations.Your
Kid Conversation Cards Download
comes ready with 15 great conversation starter questions PLUS blank templates for endless possible conversations. You can even customize to fit your curriculum! Optional fun card backs are provided as well if you want to print two sides.The complete list of questions is included plus additional ideas and explanations included in the download.
LET THE CONVERSATIONS BEGIN!
This download resource is available instantly after purchase by clicking on My Downloads at the top of any page.
---
Related Products