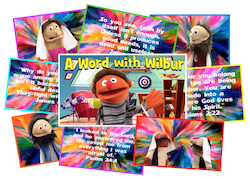 More Details ›
A Word From Wilbur Imagination Time Machine Video Lesson Series
Wilbur visits Old Testament characters to learn important life lessons
Meet Wilbur - a fun little fellow who loves to help kids understand the Bible!
A Word from Wilbur - Imagination Time Machine is a 4-part short video series in which the host, Wilbur, visits some Old Testament characters to learn some important life lessons.
These short 5 to 6-minute teaching videos feature Wilbur introducing an important life lesson from an Old Testament Bible Story. He uses his "Imagination Time Machine" to interview Old Testament Bible Characters to learn about their roles in God's Story.
Includes the following topics:
Video 1: Doing the Right Thing
Video 2: God Has Power Over All Things
Video 3: Today, WE Are God's Temple
Video 4: God Loves Unity
This download resource is available instantly after purchase by clicking on My Downloads at the top of any page.
---
Related Products