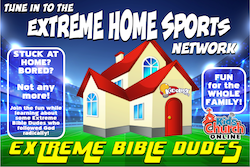 More Details ›
Extreme Bible Dudes! Kids Church Series
Extreme Home Sports Network
Kids Church Online provides complete online services you can share with your church families. They feature Pastor Karl's teaching using puppets, videos, magic tricks, worship songs, and so much more! These are complete, self-contained, interactive services that will keep your kids engaged with what's being taught.
Tune in to the Extreme Home Sports Network for the latest stuck-at-home extreme sports! Whether it's extreme straw shooting, extreme paper airplanes, or extreme taco building, being stuck at home just got exciting!

Join Krazy Karl and Maniac Micah as they compete while learning about some Extreme Bible Dudes who demonstrated their commitment to God through extreme acts of faith.

Whether they're learning about Extreme Lion Taming, Extreme Fire-Starting, or Extreme Water Walking - kids will be challenged to demonstrate their own Extreme Faith as they follow God!
Each video in this series is approximately 25-35 minutes in length.
If you have never seen Karl in action, Starter members can download Have No Fear, God is Here for free! Check it out!
Series Overview
LESSON 1: Extreme Bible Dude Daniel (Loyalty)
LESSON 2: Extreme Bible Dude Elijah (Bravery)
LESSON 3: Extreme Bible Dude Peter (Faith)
Kids are going to LOVE this THREE WEEK series!
FEATURES:
Sports Show Format
Looney Athletes
Crazy Competitions!
Cool Puppets!

GUS! (of course)
Crash the Skater Dude
Ernie, the Roving Monkey Reporter
Ref Roland, the, uh, well, Ref!

Fun game ideas kids can try at home!
Cool worship music!
Live Toybox Tales Bible Story
and more!
This download resource is available instantly after purchase by clicking on My Downloads at the top of any page.
---
Related Products