Categories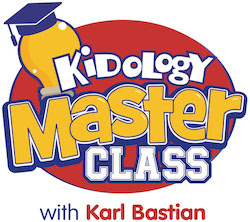 More Details ›
Kidology Master Class #01 - Thriving in Ministry
Become who you must be to thrive personally while growing a ministry
Join Pastor Karl Bastian, founder of Kidology.org, for a 6-week Master Class and take your ministry to the next level!
Class #1 - Thriving in Ministry - runs January 6th-February 14th.
See what you get when you register.
Once registered, watch your inbox for special instructions to help you prepare for the class!
Textbook Requirement:
Kidology's Ultimate Toolbox for Children's Ministry
. Purchase the book and get the digital version FREE! The same textbook is used for the first five Master Classes, so there is only one book to purchase.
View future classes
in this series.
Your introductory materials will be delivered to you via a secure download link sent by e-mail shortly after purchase. Links expire 7 days after purchase.
---
Related Products