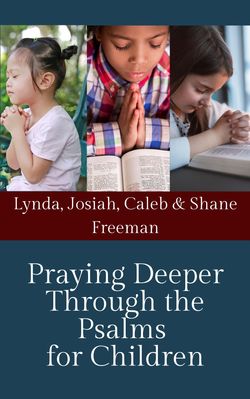 More Details ›
Praying Deeper Through the Psalms for Children
Praying Deeper Through the Psalms for Children
is a 170-page book that will help your child look for God with their whole being. Each week they will find a few verses to read from Psalms, along with additional key verse(s) and a Key Word/Thought. Use these to help your child think about the point of the passage/prayer all week long.
These prayers will help your child learn to pray the Scriptures back to God, which will help them learn to find and know God for themselves! Get ready for some exciting times talking about God with your child!
Download the book intro and Week 1.
Delivery of your devotional will be via a secure download link sent by e-mail shortly after purchase. Links expire 7 days after purchase.