Categories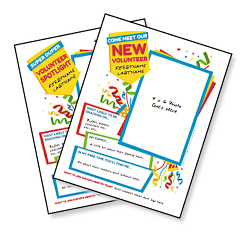 More Details ›
Volunteer Spotlight Template PDF Download
Looking for a fast, easy way to recognize awesome volunteers or honor new ones? Post some fun info about them for everyone to see!
All you need is a picture of the volunteer you want to recognize and gather some fun info about them. Print these in color. You can annotate the PDFs or just use a black sharpie and fill them in by hand! Your volunteers will feel so honored!
Post outside the room they serve in to show parents and other volunteers how much you appreciate them!
Volunteer retention is as important as initial recruiting and when potential helpers see how you honor those who serve, they'll be signing up too!
You can purchase this template here, or if you're an All Access Member, you can
download TWO colorful templates for free
. Not an All Access Member?
Join Today
to get more freebies like this every month.