Categories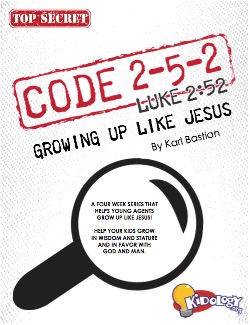 More Details ›
CODE 2-5-2 Spy-Themed Curriculum
A spy-themed 4-week series teaching kids how to grow up like Jesus!
Included in this recently de-classified series are four complete dossiers (lessons) that will teach your young agents how to grow up to be like Jesus... oops, I mean Agent J! The Global Operation Director (aka G.O.D.) has some fantastic plans for your recruits - but to succeed in the Mission in life He has for them, they must be trained to grow in Wisdom, in Stature and in Favor with God and Man. Your young agents will be prepared for a life of covert and overt operations to share Jesus with a lost world! This will be accomplished through:
Extensive Field Prep
Training Activities
Gadget Object Lessons
Tactical Scripture
Biblical Case Studies
De-Coding the Word
Series Contains:
Four Complete Lessons
Strong Biblical Content
Welcome Activities
Biblical Case Studies (Solomon, Samson, Noah and Joseph)
Four Fun Intro Videos
(YouTube Sample)
Customizable PowerPoint
Small Group Discussion Guides
Object Lessons
A Fun Decoder
Take Home Papers
Practical Mission Assignments
Theming ideas
Helpful Graphics
Tons of Cool Content!
This is a series that your students will really get excited about! Everything you need for success is included in the immediate download. Take your kids on an adventure that will truly impact their lives and the world in which they live.
Your Mission, should you choose to accept it, is to help your kids grow up like Jesus!
This download resource is available instantly after purchase by clicking on My Downloads at the top of any page.