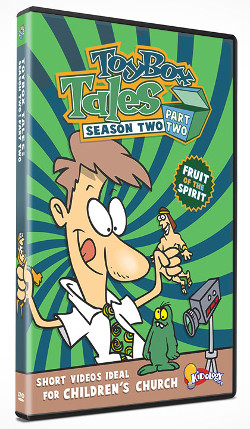 More Details ›
Toybox Tales Season 2: Part 2 DVD
Teach on the Fruit of The Spirit with Toybox Tales
By Popular Demand, Karl's Toybox Tales are now on DVD for ease of use in your ministry.
The Fruit of the Spirit has never been so fun to learn about!
Kids and adults alike enjoy these fun videos that introduce the Fruits of the Spirit like never before!
Watch Pastor Karl's toys come to life to teach kids about love, joy, peace, patience, kindness, goodness, faithfulness, gentleness and self-control (plus a BONUS TALE about Evolution).
Whether it is parodies involving the lovable Muppets, wrestlers, Jimmy Neutron, Captain Crunch, or Star Wars action figures, these tales will make kids laugh and serve as fun introductions to teaching on these topics.
Biblical lessons have never been so memorable or unique!
For a listing of titles,
click here
.
Or view our entire line of
ToyBox Tales
.
---
Related Products