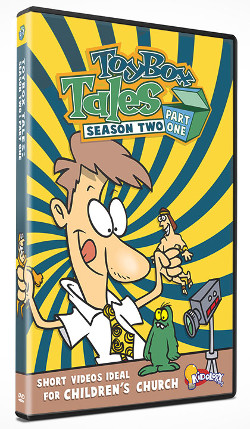 More Details ›
Toybox Tales Season 2: Part 1 DVD
11 Episodes from Season 2
By Popular Demand, Karl's Toybox Tales are now on DVD for ease of use in your ministry.
Through
Toybox Tales
, Pastor Karl Bastian uses toys to illustrate Biblical lessons that create ideal conversation starters. Use them to complement your teaching ministry or simply to entertain!
With
Toybox Tales Season 2, Part 1
, continue your collection with this first installment of adventures from the Fall of 2003. Don't miss these 11 stories, dealing with obedience (
Don't Touch the Button
,
Rent-A-Dad
), acceptance (
Scooby Doo and the Mystery of the Scary Monster in the Woods
,
The "Big" Bully?
), courage (
To the Pain!
), wisdom (
A Hairy Hero - Samson
), and more.
Biblical lessons have never been so memorable or unique!
For a listing of titles,
click here
.
Or view our entire line of
ToyBox Tales
.
---
Related Products