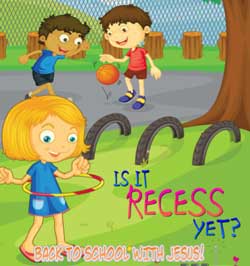 More Details ›
Is It Recess Yet? (Back to School with Jesus) Curriculum
Four Lesson Series
The purpose of Is It Recess Yet? is to help get kids excited about school in the fall and to see it in a new light. Instead of just somewhere they have to go to learn, they will be challenged to see school as a place they can shine for Jesus by being more like Him. They will be encouraged to do their best understanding that God has a plan for each of us, and preparing for that plan is very important. They will also be reminded not to compare themselves to others, but to see that God made them special and unique and no one else can be or do what they are meant to accomplish in this life.

This unit includes a Bible lesson rich in scripture, games, small group ideas, object lessons, skits, puppet routines, and even a practical "home play" assignment - since kids don't want more homework!

This download resource is available instantly after purchase by clicking on My Downloads at the top of any page.