Categories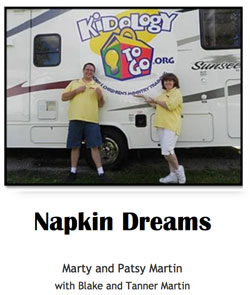 Marty Martin Napkin Dreams Downloadable Book
For many years, Marty Martin had the secret dream of taking a year or two on the road with his family, living in an RV and seeing this amazing country of ours. This always seemed like a distant dream out of reach and so he never spoke much of it. A few hints here and there to his wife Patsy and even to his two older sons may have revealed some of the dormant desires of his heart, but nothing ever came of it. He felt like he was tired of accepting "no" for an answer to this dream!

In January of 2010, his family sat down and wrote on a napkin what their dreams for such a trip would be, hence the name, Napkin Dreams! The Martin's story and travel tales will help inspire your family to dream big dreams together and see what God has in store for you!!

This download resource is available instantly after purchase by clicking on My Downloads at the top of any page.
---
Related Products