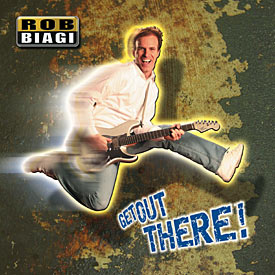 Rob Biagi Get Out There! Album Download
13 Songs with Energy, Joy, and Pizzazz!
Singer and songwriter Rob Biagi delivers energetic praise and worship music. His "family-building" focus brings together kids and parents through fun songs with a powerful message.
Following up his debut album,
You're a V.I.P. to G-O-D
, Rob presents his
Get Out There!
CD. It features 13 additional songs, with all the energy, joy, and pizzazz you've come to expect! Also available from Rob,
Joy 'n the Family
.
Songs include:
I'm Followin' Jesus
Cool Guys, Groovy Girls
Get Out There!
Burger Meal
Before I Go I Stop
I Don't Want To Watch Things
On We Go
I Won't Turn My Back On You
You and Me, Me and You
Trust In The Lord
I'm God's Kid!
Psalm 33
Sometimes I Sing
---
Related Products