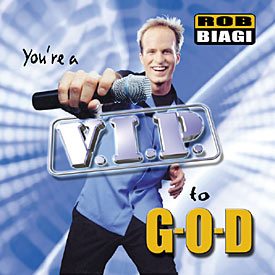 Rob Biagi You're a V.I.P. to G-O-D Album Download
13 Original Songs!
Singer and songwriter Rob Biagi delivers energetic praise and worship music. His "family-building" focus brings together kids and parents through fun songs with a powerful message.
On his debut album,
You're a V.I.P. to G-O-D
, Rob presents 13 original songs written for kids ages 5-12. Combining Bible truths, great musicianship, and tons of fun, kids and parents will be playing this album over and over!
Songs include:
Jesus the Soccer Star
The Bug Song
You Say, "Imagine"
Skip Sleepin' In
Everyone Has a Gift
Jesus, I Know
P.U.S.H.
I Go To Jesus
V.I.P. to G-O-D
On Your Way to Heaven
Carry the Light
Happy Are We
I Am Just Gonna Praise You
Delivery of your album will be via a secure download link sent by e-mail shortly after purchase. Links expire 7 days after purchase.
---
Related Products