Categories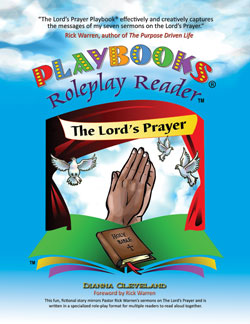 More Details ›
Roleplay Readers® The Lord's Prayer Playbook® (set of 6)
For Families, Small or Large Groups
This creative reader's theater story of
The Lord's Prayer
mirrors Pastor Rick Warren's sermons on the Lord's Prayer and helps readers appreciate the meaning behind this profound prayer.
With modern dialogue from characters interwoven within the seven powerful messages that make up this prayer, this script brings a practical perspective to which readers of all ages can relate.
Characters bring their own personal experiences into the story as they all realize that everyone has insecurities, worries, hurts, guilt, regrets, and uncontrollables, and that we can find God's solutions to our struggles entrenched in this prayer if we only know where and how to look.
The story comes with discussion questions and includes more than 30 Bible references.
Available with a stitched or spiral binding.
Also available in
sets of 25, 30 or 35
. Perfect for the classroom!
---
Related Products