Categories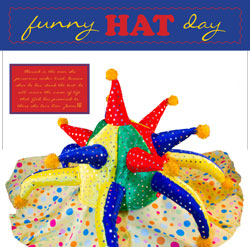 More Details ›
Childrens Church Stuff Funny Hat Day Extreme Party Plan (Download)
This party gets the kids involved - they come wearing the craziest hat they can come up with. And then everything centers around the hat. You'll love the games, you'll love the skit, and you'll love the message. The decorations and snacks are a blast. It's easy to do -- you look like a hero -- the kids have a great time and go home with a great truth planted in their hearts -- and your team is excited. Who could ask for anything more?
Funny Hat Day
theme verse: James 1:12
Also Included: A preschool adaptation so it is good for your whole department!
Click here
for a list of what is included in this party plan.
Delivery of your party plan will be via a secure download link sent by e-mail shortly after purchase. Links expire 7 days from date of purchase.
---
Related Products