Categories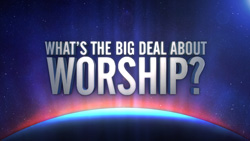 More Details ›
High Voltage Kids Ministries Worship Curriculum Download
Single Lesson Download
Teach your kids "What's The Big Deal About Worship?" in downloadable lesson that features video, game, PowerPoint slides, skit, object lesson and MORE!
Join Becca as she discovers the importance of
WORSHIP
in the life of a child of God. It's not about music, style, or anything like that. It's about demonstrating our love for God! If we love God, we WILL demonstrate that love in some physical way.
This lesson includes the following:
Intro Video (mpg-1 video) featuring Becca
Character Skit w/Wacky Wally (includes his theme music)
Family Devotion
"Name That Worship Tune" (game)
Illustrated Message w/object lessons
PowerPoint graphics for entire lesson
"Lift Up Your Hands" Music Video by SKITTLES
To view a sample video and the lesson points,
click here.
This download resource is available instantly after purchase by clicking on My Downloads at the top of any page.
---
Related Products