Categories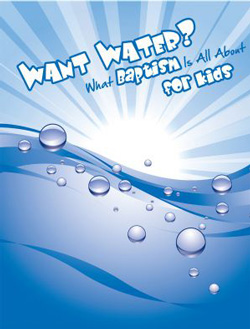 More Details ›
DiscipleZone Resources Want Water?
What Baptism is All About for Kids
When kids become interested in being baptized, this booklet will help them be fully prepared to take that important step. The prime group is children in grades 3-6. Children can use the booklet themselves or parents and teachers can use it to teach children about baptism.
Children will learn answers to these questions:
Is it Really Important to Get Baptized?
Are Some Reasons for Getting Baptized Better than Others?
When is a Child Old Enough to Get Baptized?
Why Do People Get Baptized in Water?
Will My Life Be Different After Getting Baptized?
The material can easily be made into a series of
baptism
lessons for children.
In addition to the clear teaching, the booklet includes:
10 Question Quiz
A 10 Step Baptism Preparation Checklist
A Baptism Request Form
Pointers on How to Prepare One's Personal Testimony
The Good News in Colors
My Spiritual Birth Certificate
A Baptism WordSearch Puzzle
A Word to the Parents

Sold in packs of 10.

Check out Hungry for More? the complementary resource on communion.

Click here to view sample pages.

Click here for a note on shipping.

---
Related Products