Categories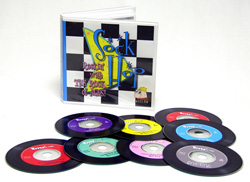 Puppets Inc. Sock Hop VBS Kit
Sock Hop
VBS comes with all the organization and instructions you need on 8 CD's. This complete VBS kit is written to combine the fun music and decor of the 50's with solid instruction and classic VBS values.
Every day begins with an opening assembly featuring plenty of music, and a couple of "hip" hosts. The children then head out to stations for crafts, snacks, games, and a visit to Spunky's Clubhouse to hear the Bible Story for the day and witness an exciting scientific object lesson. Upon returning to the "Sock Hop" the hilarity will continue as campers will be reminded of the day's theme, memory verse and play more silly games.
One of the unique aspects of
Sock Hop
is the "framework" of improvisation upon which it is built. There are scripts and instructions, but improvisation is encouraged and "sticking to the script" is not really recommended. The more you make it your own, the better the experience it will be for the kids. If you liked the way
Camp!
or
Camp!2
worked, you'll
love
Sock Hop
.
Check out this sample
Director's Guide
.
---
Related Products