Categories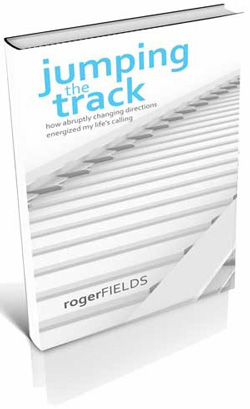 Jumping the Track by Roger Fields
How an Obscure Pastor Created a National Production that Reaches Tens of Thousands
Beyond goal-setting, this is a first person account of the courage to abruptly change life's direction multiple times. It chronicles
Roger Fields'
unique journey with the ups and downs of doing things in an unconventional way.
Abandon long-term goal setting
How abrupt changes can energize your life
Are you letting grasshopper brain paralyze your progress?
The secret of the Tishbite
Failure: Why you need it and how it will help you
5 tracks you can jump
Coon hunting in Kansas
and the Kidz Blitz story!
What others are saying...
"This book is more than Roger's story. It's more than just memoirs of the journey. It's a guide to rethink your choices, to refocus your steps and help you master the art of managing change. This is a book for fathers, it's a book for leaders and a must read for those who are tired of the same old, same old. I highly recommend it."
-
Jim Wideman
, speaker, author, Stretch
"...been reading Roger's new book, and it is incredible. His heart comes through powerfully, it is honest, practical, challenging, touching, insightful, thoughtful...man, it just hits ya in the heart. Way to go Roger, it is a book that makes you stop and reflect a lot, besides just being filled with great tid bits of Truth."
-
Karl Bastian
, Children's Pastor, writer/contributor, president of Kidology.org