Categories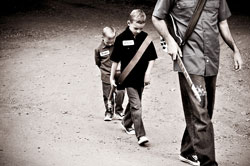 More Details ›
Jeff 'Roady' Grable Roady's Best Album Download
Five Fan Favorites from Jeff 'Roady' Grable
This download includes five fan favorites sure to get your whole family singing! The upbeat, rocking music combined with some worshipful songs, mixed with some silly interludes with kids, will be a welcomed addition while driving in your car, on your mp3 player, or anywhere else you listen to music. Many churches are already using Roady's music to get students motivated to sing and learn God's Word.
Songs Include:
Transformed
Greatest Commandment
Shout for Joy
Finish the Race
Jesus Christ is Lord
Delivery of your music will be via a secure download link sent by e-mail shortly after purchase. Links expire 7 days after purchase.
---
Related Products