Categories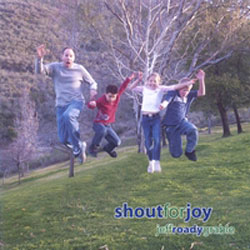 More Details ›
Jeff 'Roady' Grable Shout for Joy Album Download
Get ready to sing and shout and leap for joy! You will love to listen to "Shout for Joy" again and again. Jeff "Roady" Grable's debut album is a collection of songs that have passed the test of the most difficult family audience, with kids and adults humming melodies for days after the show. This combination can be experienced in Jeff Grable's project, 'Shout for Joy,' as the life-giving message of God's Word and high quality production collide. Youth and adults alike will find the words of Christ richly dwelling among them upon each listen to this collection of powerful Scripture verses combined with memorable melodies. Bring this music into your life and look out for an exciting change in you and your music!
Songs Include:
Shout for Joy
Jesus Said
God Will Forgive Us
My Heart Leaps for Joy
Seek Ye First
Live the Adventure
Processional
Shine Like Stars
Mr. Silly pants
Pure Joy Goes On
How Many Are Your Works
Recessional
The Fruits of the Spirit
This download resource is available instantly after purchase by clicking on My Downloads at the top of any page.
---
Related Products