Categories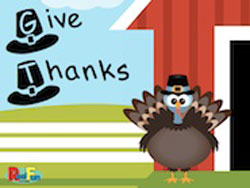 More Details ›
RealFun Give Thanks Curriculum Download
Two Week Kids Church Curriculum
There always seems to be a gap during the holidays in Children's Church curriculum. Look no further. RealFun offers
Give Thanks
, a Thanksgiving curriculum to be used in Children's Church the Sunday before and the Sunday after Thanksgiving. This two-week series will teach the children in your ministry the importance of having an attitude of thanksgiving year round.
Give Thanks
offers Small Group Sessions, games, teaching tips, PowerPoints and more!
Delivery of your RealFun Curriculum will be via a secure download link sent by e-mail shortly after purchase. Links expire 7 days after purchase.
Click here
For a sample lesson.
---
Related Products