Categories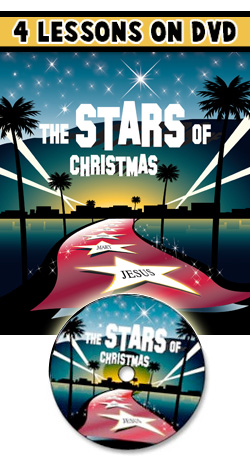 More Details ›
The Stars of Christmas 4-Week Curriculum on DVD/CD-ROM
Teach children that Jesus is the true Star of Christmas!
The Stars of Christmas
is a revolutionary 4-week, K-5 curriculum that delivers creative, Biblical content in a uniquely interactive, teacher-driven format.
Four sitcom-style episodes feature a Grammy-style awards show hosted by the arrogant Colton Storm. Your kids will
hear the entire biblical Christmas story as Colton interviews people that "starred" in the amazing account of Jesus' birth
.
Each episode points to the fact that Jesus is the one true "Star" of Christmas. Join Mary, the Shepherds, the Wise Men, and even terrible King Herod as they share their encounter with Baby Jesus before taking the stage to perform a classic Christmas carol.
Includes everything you need in a
media DVD and curriculum CD-ROM
. Fully customizable, yet easy to use right out of the box!
Intro by series creator Dan Huffman...
Prefer a Download?
Click here!
---
Related Products