Categories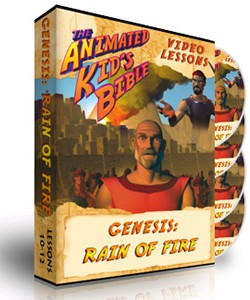 More Details ›
Animated Kids Bible Genesis: Rain of Fire Interactive Lessons 10-12
A Sunday school teacher's dream come true!
Animated Kids Bible
Genesis: Rain of Fire
Interactive Bible Lessons 10-12
This set of 4 discs picks up where the last left off, with the continuing story of Abram and his children, and includes the fiery doom of Sodom and Gomorrah. In addition to the story told with striking visual effects and realistic characters, it has quizzes and a "Fact File" to help your kids not only enjoy, but understand the stories and their lessons for us today.
Each of the three story discs has several songs for the kids to sing and enjoy. These songs are all about God and what His love means for all of us.
The fourth disc has a lesson plan that you can use to teach the kids at home. This lesson plan is full of activities relating to the videos, to get your kids thinking about what these stories mean to us today. The Animated Kid's Bible Video Lessons Set 4 is an engaging story, guaranteed to get your kids into Bible study.
Features:
Contains Four Disks
Plays on all DVD players - Worldwide
Contains three major bible lessons
120 minutes of video (Samples)
Home Study handouts
High quality prints
Click here
for more details.
Save money - buy the entire Genesis set!
Individual Episodes also available via download:
Episode Ten
Episode Eleven
Episode Twelve
---
Related Products